ABOUT US
S H A Z Computers Trading LLC is a well-known value-added reseller in Dubai, UAE . We are leader in manufecturing IOT devices and providing IT Solution in industries since 1996, Shaz Computers Trading LLC has emerged as one of the leading IT reseller and manufacturer of quality IT products and devices to Middle East, Africa, Asia, US and Europe. S H A Z Computers Trading LLC Dubai manufacture specialized robots devices , manufacture IOT devices, manufacture scanners,manufacture costomizable printer,manufacture EID Readers, Kiosk machince for multipurpose , networking products and support services of international standard in this region. Because of our market competence and quality services, we have become a supplier to several large companies and networking dealers in Bahrain, Saudi, UAE, Kuwait, Pakistan and Egypt. We have our manufacturing unit in china and India. From the vendor perspective S H A Z Computers Trading LLC had a distribution strategy that understood the technology and how to disseminate and support it, and from the reseller's point of view, S H A Z Computers Trading LLC provides all the answers on what to them was a bewildering technology. In today's rapidly moving IT industry S H A Z Computers Trading LLC identified that resellers need to not just buy and sell 'boxes', but to be placed to offer the correct products and solutions to meet their customers requirements. The resellers also need to be able identify any future sales potential of IT products to their existing customers and to identify new customers as technology becomes available.
With an exceptional level of expertise, S H A Z Computers Trading LLC will focus on providing a unique level of service and value added specialist distribution to our partners in business, the vendor and the reseller to enable them to succeed in the global marketplace.
Leader in manufacturing Autonomus devices and Scanner
Manufacture Autonomous Mobile Robots for indoor deliveries we works autonomously to enhance logistics, cut down costs, and boost efficiency and productivity in your business. Our products are totally customizable following your requirements. We give you the means to manage your fleet of robots. Change your robots' tasks on the go, either through our web GUI or via your ERP system – we can provide, to you or to your integrator, a RESTful API for that.

Smart Kiosk Manufacturer
We  have big high definition screens for adverts and digital signage. Touchscreen and various other hardware add-ons can also be added.
This encourages a customer to interact more with the business/organization. The flashy screens and graphical media is very hard to remain unnoticed. It always attracts people and people always try to interact with it. Customized design and branding will let it blend in perfectly with any kind of interior or indoor environment.
Smart card reader manufacturer
well-designed RFID USB reader series for desktop applications. Various versions are available to support all different RFID technologies on 125 kHz and 13.56 MHz. You can select between practical USB interfaces (HID mode of virtual COM port mode) or serial interface. Even PC/SC is available on some versions.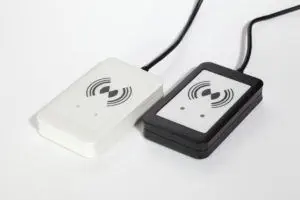 S H A Z Computers Trading LLC will exceed the expectations of our business partners at all times with a foundation of sound business practices and the pursuit of a flexible approach to fast, effective and profitable solutions to product distribution and support. S H A Z Computers Trading LLC brands its products for the most discriminating customers who are looking for superior, cost effective technology to preemptively dominate their industries. Continued Success is built on our ability to research, develop and deploy revolutionary Broadband Communications Technologies that exceed the demands of the industry and outpace our competitors. We think and practice outside the box to lead our distribution channels and our marketplace.